Landfill Regulatory Compliance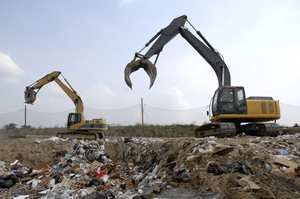 The design, construction, operation and decommissioning of landfills all have regulatory aspects that are a function of numerous variables. RTP is very experienced in providing regulatory compliance assistance regarding RCRA, NSPS, MACT, NPDES and other state-specific rules, in all phases of landfill projects for municipal solid waste (MSW), construction and demolition (C/D) debris, hazardous and other specialized materials. RTP has assisted both public and private organizations in developing the various regulatory permit applications regarding solid waste, air and water issues. Sometimes all of these issues are lumped together as Environmental Impact Statements (EIS, GEIS, DEIS, FEIS, etc.), while sometimes individual permit or compliance documents are required. RTP has experience with all facets of landfill compliance.
RTP has assisted clients with negotiating permit conditions, preparing compliance plans, maintaining records, reporting requirements and filings. RTP has provided monitoring program support for hazardous emissions, speciated air emissions, collected and analyzed water, air and solid waste samples, performed air dispersion analyses, vadose zone migration analyses, odor assessments, prepared emission estimates via Tier I, II and III procedures, fugitive dust monitoring and impact assessment modeling analyses. Finally, RTP has a staff of experienced scientists that have assisted with preparing responses to US Clean Air Act Section 114 requests, technical support for addressing notices of violation and have testified in various courts on several of the above referenced matters. RTP is available to provide this broad array of services or, if required, confidential due diligence audits of applicable rules and regulations under attorney privilege. RTP can also provide assistance for ancillary activities such as landfill gas collection and control, energy conversion projects, landfill gas recovery facility permitting, landfill gas flaring permits, site closures and site reclamation.